It is difficult to make a movie about a future that we cannot even picture
Last update: 2022-04-22 08:59:22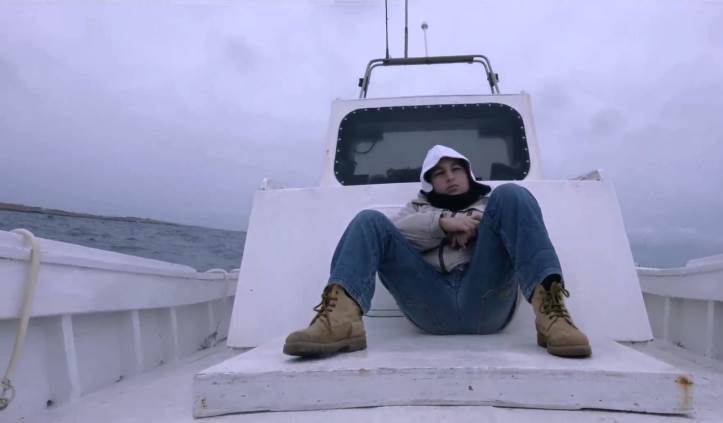 It is truly wonderful that Italy is in the running for an Oscar thanks to a film like Fuocoammare. For several reasons. The first and most important one is summed up in one line of the documentary's protagonist, Pietro Bartolo, a doctor: "It is a duty for every man who is truly a man to help these people." Period. There is nothing to add: whatever may be the reason why immigrants come, the place they leave from, their language, religion, color of the skin, they must be helped. It is an evidence that stands in front of you with the malnourished and dehydrated bodies of men and women, with children who are passed like bundles from hand to hand.
Second reason: it is the first time that Italy takes part in this competition with a documentary. And after decades of silly movies on the struggle of growing up, it is not bad to be immersed in reality.
Third reason, the director Gianfranco Rosi, already winner of the Golden Bear in Berlin, knows how to tell what he knows: and so, the dark and painful faces of these men and women who come from the sea alternate, almost overlap, with the careworn and yet beautiful faces of other men and women like them, the citizens of Lampedusa: the kid with the lazy eye, the sailor, tired of his life suspended between sky and sea, the old man who is mending the nets, the grandmother who cooks.
Finally, there is one last detail that makes this movie compelling: its title, Fuocoammare ("Fire at sea"). It evokes the rockets that military ships lit at night, it recalls a warning, a threat, a scream. That said, we must say that a movie is little, very little to address such an urgent topic.
We are just at the very beginning, even without calling into cause the know-alls of the 1970s convinced that a movie was always a political gesture, certain that art was enough to change reality. A movie does not make a change, rather, if anything, it opens to a reflection, to a question, it asks a step forward. In this case, at least, it reminds everyone of something that we take for granted but it is not: what the world envies Europe is its welcoming attitude, which has roots in a faith born elsewhere, 2000 years ago, and among European countries Italy still preserves, even if with little awareness, its little leadership in the humanistic thought that made the Western world what it is. But this is something small.
Where are the movies that tell us about what happens before and after, that make us understand? "Political and economic actions that aim to end migrations must be promoted" said the Russian movie director Aleksandr Sokurov in Venice. They looked at him badly. Not to mention Clint Eastwood, accused of racism for having deprecated the censorship of any reference to Islam in official speeches on immigration. What happens when one decides to leave? And what will happen when the eight million Syrians who have lost their homes and everything will decide to come to us to search for a new life? How on earth can you flee not to be sent back, or how can you lay on a cardboard in a foreign city? How should we relate to the other? Politics seems to have run out of answers, both simple or complex.
There is a disturbing image by the way, captured by the cameras that at Ventimiglia filmed the demonstration in support of the immigrants blocked by the French police at the Italian border: the guy wearing jeans and a red vest on the second row, a few days later in Nice, at the wheel a truck, will hit and kill 84 people on the Promenade des Anglais. It is difficult to make movie about a future that European politics does not even know how to picture, being content with shortcuts based on walls and barbed wire.
Yet, the crisis of our continent, as Cardinal Schönborn, Archbishop of Vienna, recently reiterated, did not start with the migrants: "We squandered our Christian heritage", he said. And this – a faltering Christianity, a culture of selfishness – is the welcome that immigrants receive when they come to us. But it is also what our children experience every day. Then, it is no coincidence that – especially in France – the issue of immigration is becoming a mirror in which to look at yourself. And although some female directors – a Tunisian, a Lebanese and a French, three women who talk about women – seem to sometimes confuse freedom with transgression, and to settle for conventional solutions, the question of meaning that emerges from this comparison is dramatic anyway.
The first title is Corps étranger, a Franco-Tunisian production directed by Raja Amari. It tells the story of a girl, Samia, who arrives to Lyon after a journey of hope that led her, gasping, on European beaches, on the run from her fundamentalist brother, whom she had denounced during the Jasmine Revolution. Samia's presence is foreign, in the life of her friend that hosts her and of the French woman who gives her a job; but foreign is also the world that accepts and rejects her, trying to trap her in a net of tensions and sexual frustrations.
The second movie too, Peur de rien, directed by Danielle Arbid and multi-award winning at the Toronto Film Festival, tells the story of a sentimental education, that of Lina who arrives in Paris from Lebanon in the 1990s. With a hard life behind her, an escape, a path full of difficulties and temptations upon her arrival in the West: the residency permit, the most humble jobs, the atmosphere of the students and of political struggle, the discovery of sex, men who surround her and women who judge her. On this whole scenario, the fear of being afraid seems to prevail: but in the still image that ends the story there is the smile of a conquest, the certainty of a new autonomy. It is dangerous to reflect yourself in the other and find there your own dark end. Above all, you risk looking at things myopically. Because, if the problem is not so much the numbers of migrations to Europe but the ability of the Western world to confront its strong and certain identity with others, the evidence reveals the human and spiritual desert that we inhabit.
The third movie is about this, and it is the most interesting. Signed by Marie-Castille Mention-Schaar after the Charlie Hebdo attack, Le ciel attendra tells the story of two mothers and two teenage daughters. They have in common the online meeting with ISIS fundamentalists and the search for a meaning to give to their lives. Mélanie, 16-year-old, and an apparently comfortable world: school, friends, playing the cello. Deep inside though, a loneliness lived in a broken home and a guy who speaks of love and ideals via social media. Sonia is 17 years old, of French mother and Tunisian father. She blames her "secular" parents for their inability to look further, for the lack of a faith and a heaven to wait for. Mention-Schaar is well-documented and shows all the details, above all – emails secretly exchanged, the niqab ordered by mail, the escape of one of the two girls – without dealing with the loss of that void that advances in our day, in our lives. To do so, a director is not enough: you need a man who is truly a man, and who remembers that he has a destiny.
The opinions expressed in this article are those of the author(s) and do not necessarily reflect the position of the Oasis International Foundation
To cite this article

Printed version:
Emma Neri, "If the World envies Europe's Welcoming Attitude", Oasis, year XII, n. 24, December 2016, pp. 140-142.

Online version:
Emma Neri, "If the World envies Europe's Welcoming Attitude", Oasis [online], published on 15th March 2017, URL: https://www.oasiscenter.eu/en/if-world-envies-europes-welcoming-attitude.