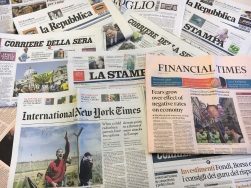 Nayla Tabbara, L'Islam pensé par une femme, Bayard, Montrouge 2018
Over the last few decades, the Arab-Muslim world has witnessed a proliferation of works and analyses trying to shed new light on gender issues in Islam and taking a reinterpretation of the Qur'an and the Muslim tradition as their starting point. This is not the case—or at least, not totally—with Nayla Tabbara's L'Islam pensé par une femme ("A Woman's Interpretation of Islam"). The work's main focus is not limited to the role and rights of women in Islam. Rather, the Lebanese Muslim theologian has attempted to view religion and the Qur'an from a female perspective: a vantage point that is generally excluded from the traditional formulation of the religion's principles.
In Tabbara's work, feminine and masculine become symbols of culturally determined characteristics—respectively, those of receptiveness and openness on the one hand, and of effectiveness and a propensity for change on the other. Exclusion of the feminine from Qur'anic interpretation and the prevalence of a patriarchal reading have led, according to the author, to the representation of a religion based on strength and power and dominated by an authoritarian God appearing only in the masculine; a supremacist, legalistic Islam that has marginalised women and forgotten the values of inclusion and mercy that are predominant in the Qur'an.