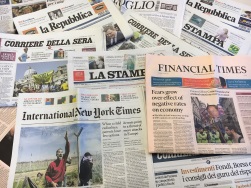 Asma Lamrabet, Islam et femmes. Les questions qui fâchent, En toutes lettres, Casablanca 2017
Born in Rabat and a physician by profession, Asma Lamrabet has for years been promoting a reformist reading of Islam primarily in the context of gender relations. This approach distinguishes her as much from secular feminism, for which equality of men and women passes through the weakening of religion and the secularization of society, as from Islamic traditionalism, which conceives of the relations between the sexes in terms of complementarity rather than equality.
Her latest book, Islam et femmes, summarizes her long journey both in reflection and as an activist, highlighting seventeen problematic issues—ranging from man's original superiority to the taboo regarding the female body—around which a discriminatory reading of Islam has crystallized. How sensitive the topics tackled in the book are is evidenced by the very life of this lady doctor dedicated to the religious sciences. Indeed, for seven years Lamrabet was director of the Centre for Studies and Research on Women's Issues at the Muhammadan League of Ulama in Rabat, an institution that has the purpose of spreading a correct knowledge of the religion. She had to resign in 2018, however, because of her nonconformist position regarding the inheritance regime envisaged by traditional Islamic jurisprudence.
Lamrabet's argument is that it is not the Qur'an in itself that penalizes Muslim women but rather the interpretations there of that have become established during the course of Islam's history. These would have distorted the sacred text's original spirit by forcing its letter or unjustifiably ignoring it in favour of other sources.